Breverb 2
7 algorithmic reverbs from the '80s and '90s, into a single plugin, beyond the original hardware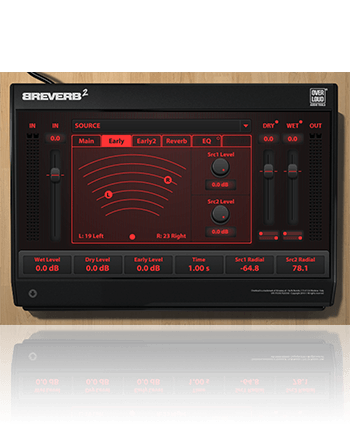 The most complete reproduction of '80s and '90s reverb algorithms
4 classic models from '80s white units, with their smooth and creamy tone, used on thousands of famous hits;
2 algorithms seeking to recreate the modern reverb of a "6000" unit, with its crisp and punchy tone, to forge your own unique sounding room;
a dedicated post-production unit
thousands of ready-to-use presets created by some of the most respected people in the music and film industry to speed up your workflow.
All of that is included into BREVERB 2
$10.000 worth hardware packed in a unique plugin!
BREVERB 2 makes your mix sound like a Grammy Award winning song.


"BREVERB 2 sounds great and its easy to use.
I love the interface - and the presets really do start you out in a great place - nice work."
- Joe Barresi (Queens of the Stone Age, Tool, Bad Religion, Soundgarden...)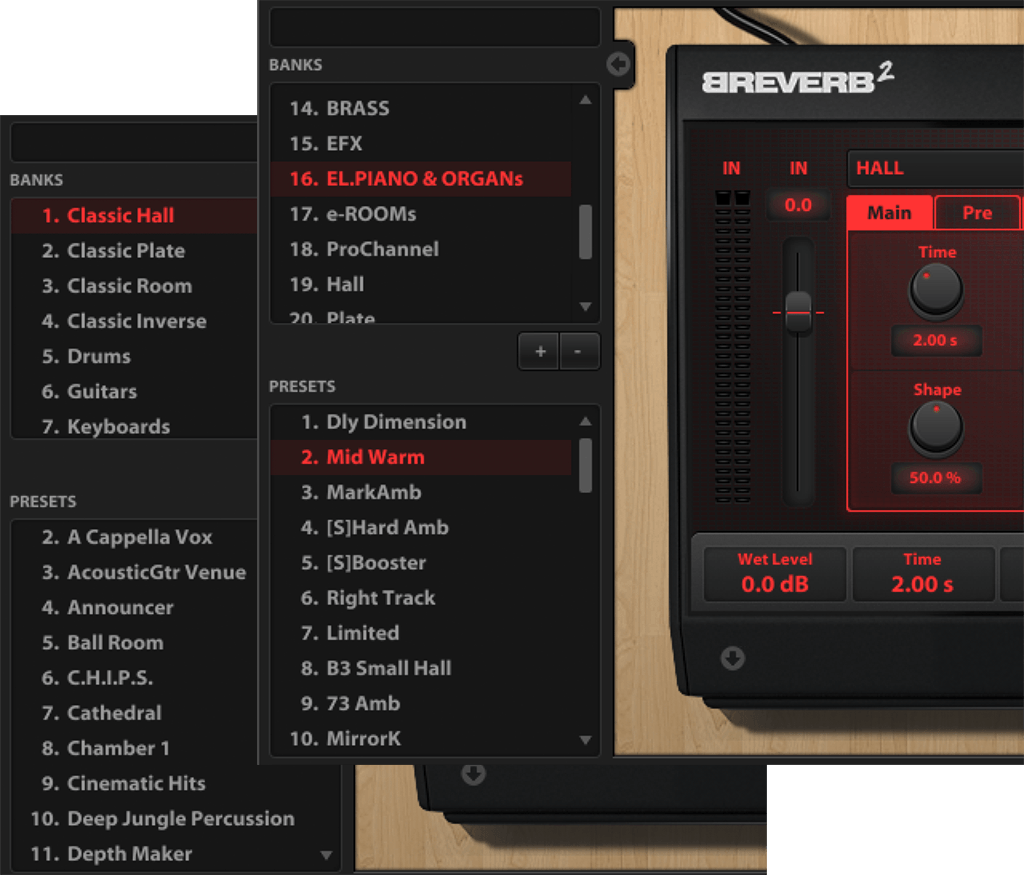 Features at a glance
7 main Algorithms: Hall, Room, Plate, Inverse, Spaces small, Spaces large and Sources.
Algorithms for any application: from mixing to post-production or from classic tones to modern and creative tones.
More than 50 ambient spaces recreated.
More than 270 factory presets, covering any kind of ambience or application, designed by top-notch sound engineers.
Modeled after the most sought-after hardware units.
Each algorithm is engineered with no compromises in the sound for maximum quality.
Full EQ section to tailor the frequency response of the reverb.
Extended Nonlinear section to creatively shape your reverberation.
"Motion" parameters add liveness, musicality and the "air movement" of a real room.
BREVERB 2 emulates the analog output section of the hardware unit, making BREVERB 2 truer to the sound of the originals.
Two different user interface modes: a compact interface or a hardware-like interface.
Six fully assignable and automatable hardware-like faders.
Full automation through host sequencers.
Multilevel undo/redo.
Real-time MIDI control of any paramters through the six faders.
No additional latency introduced!
Extremely low CPU usage: 120 stereo instances can be opened on a Core 2 Duo 2.4 GHz MacBook Pro without any glitches or dropouts!
Host-sync of all rates and times.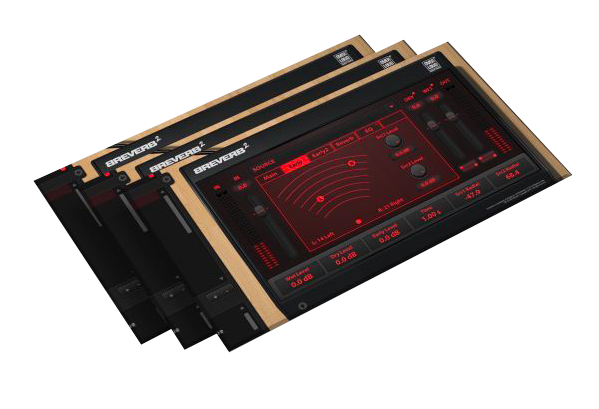 More than 50 new ambience settings...
With BREVERB 2 you have the sound of more than 50 new ambient spaces at your fingertips.

All ambience settings have been carefully crafted by Overloud engineers who referenced the preferred room and ambience choices of top sound designers.

They cover a wide range of applications from mixing to post-production, and many of them are optimized for a particular instrument, from drums to vocals to guitars etc.

Don't waste time flipping through dozens of different reverb plug-ins, looking for the right room sound. With BREVERB 2 you can find it in one click, with no compromises in sound quality.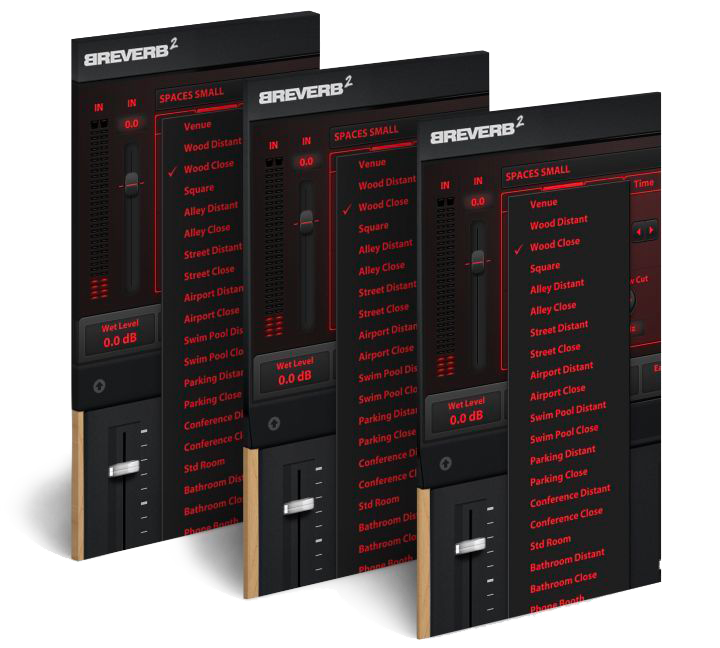 Lexi algorithms
Designed to recreate the tone of the most famous units of the '80s and '90s, like the Lexicon 224* and the Lexicon 480*, you have the full control of every parameter available on the original unit.
BREVERB 2 also reproduces the response of the A/D and D/A sections of the original units, which are an essential part of their tone.
In addition, the EQ and the GATE sections extend the sound capabilities, going beyond what was possible with the original processors.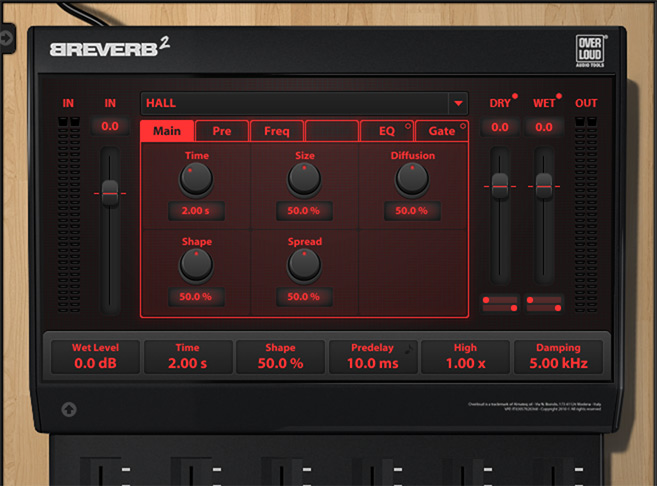 Two SPACES algorithms
SPACES algorithms are designed to meet the extremely high demands of audio professionals like you; today, as well as tomorrow. 
Created to complete the BREVERB palette, the SPACES algorithms are tailored to the mixing needs of any modern recordings.

You are free to control up to 38 parameters to create your own unique room sound.
Or, if you are on a tight deadline, you can use our comprehensive library of presets, designed by top-notch sound engineers.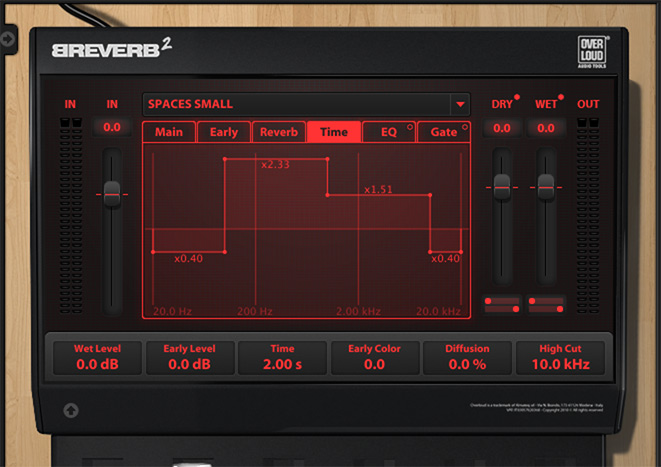 SOURCE algorithm
BREVERB 2 features a new SOURCE reverb algorithm.
With a simple click on the graphic interface you can set the 3D position of your sound sources and create life-like panoramas in your mix.

The SOURCE algorithm is the ideal tool for post-production.
You can separately design the early reflections and reverberant field, with full control over any parameter.
Through automation you can have real-time control of the position of the sound source and create apparent movement of the sound sources.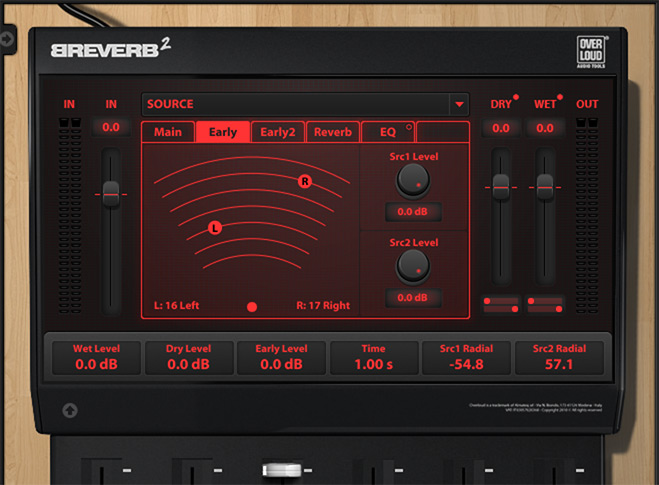 * Any use of third party trademarks, logos, mentioned brand names, products and services is only referential and Overloud hereby disclaims any Sponsorship, Affiliation or Endorsement of or by any such third party.