Choptones Bogie Dual Recto 3CH
The Legendary Recto head captured with both EL34 and 6L6 power tubes (228 Rigs)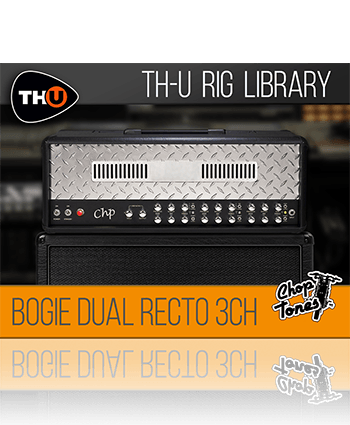 Choptones Bogie Dual Recto 3CH
Bogie Dual Recto 3CH is the TH-U expansion library, created by Choptones, seeking to recreate the sound of an authentic Mesa Boogie Dual Rectifier* head.
BOTH 6L6 AND EL34 INCLUDED
We captured the first 3 channel 100 watt version, loaded with the original 6L6 power tubes. Then we replaced the power tubes with the EL34 and did a second capture. With the EL34's in the power amp, this head offers a darker sound, rock oriented, with the same bite of the classic recto sound.
The library has been captured with a wide variety of cabinets and microphones, including*:
Cabinets
Mesa Boogie 4x12 loaded with Celestion V30
Mesa Boogie 4x12 loaded with Celestion C90
Mesa Boogie 2x12 loaded with Celestion V30
EVH 5150III 4x12 loaded with Celestion G12EVH
Randall 4x12 loaded with Celestion V30
Marshall 1960 4x12 loaded with Celestion G12T75
Engl 4x12 loaded with Celestion V60
Hughes&Kettner 4x12 loaded with Celestion G12M
Mics
Shure SM57
Shure SM7
Heil PR30
Royer R121
Sennheiser MD421
Sennheiser MD409
Beyerdynamic M160
AKG C414
Electrovoice RE20
Neumann U87
Boosted with
How to use it
This Rig Library can be loaded into any edition of TH-U which includes the Rig Player:
How to Install
1. Drag the library file into TH-U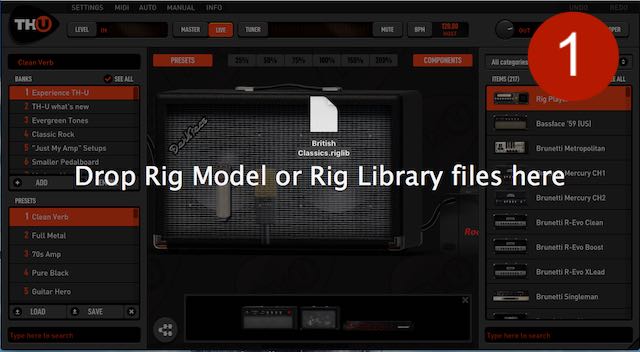 2. Enter the serial number you have received after purchasing the library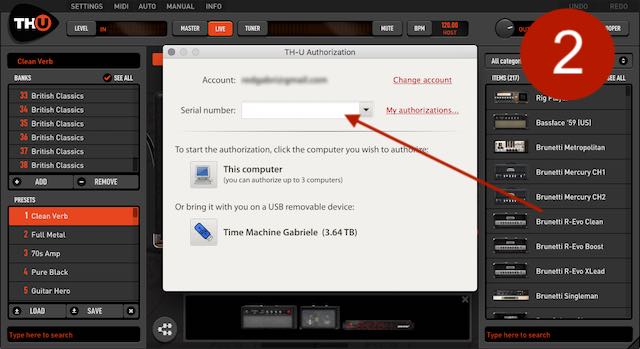 * Any use of third party trademarks, logos, mentioned brand names, products and services is only referential and Overloud hereby disclaims any Sponsorship, Affiliation or Endorsement of or by any such third party.