Studio Reverbs from the '80s and '90s classics
There were a huge number of reverb processors created in the '80s and '90s: most of them are practically unknown, even though they sounded really interesting. For those reasons they are valuable tools for achieving unique sounds today.
Dusty Racks Vol. 3 has been created by capturing 6 of the most unique units:
  Yamaha REV5* (88 IRs)
  Lexicon MPX1* (35 IRs)
  Lexicon LXP-15* (49 IRs)
  Roland SRV330* (222 IRs)
  Roland R-880* (76 IRs)
  Boss RV2* (30 IRs)
IRs have been recorded using Neve and SSL preamps, and carefully edited all of the impulses to ensure they were consistent throughout the entire library.
A collection of 500 IRs and 200 individual presets
The presets have been created during real mix studio sessions with a particular focus on vocals, keyboards, synth, drums as well as acoustic instruments.
The impulses are divided into two banks: one bank made with single IR presets, designed to replicate the original vibe, and a second multi-layer bank where the presets combine two or more IRs from different units layered together, extending the tonal palette and creating some really unprecedented reverb spaces.
The library is created for REmatrix, the first multilayer convolution reverb.
-20% Discount for REmatrix Full owners
Get this library 20% off using the personal coupon code.
DISCOVER THE FULL COLLECTION
Dusty Racks Vol. 3 extends the Vol. 1 and Vol. 2, for a total of 18 captured units and 1200 IRs.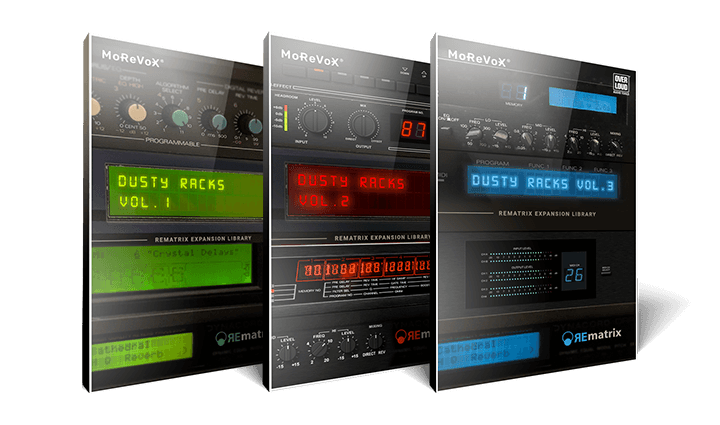 SAVE MORE WITH FLEXIBLE BUNDLES
You can purchase a bundle of 3 or 5 libraries and unlock the titles of your choice.
CHOOSE FROM THE ENTIRE COLLECTION
REmatrix offers a wide collection of reverb libraries, created by Sabino Cannone (MoReVoX) as well as Grammy Award winning engineers like Rafa Sardina and John Paterno.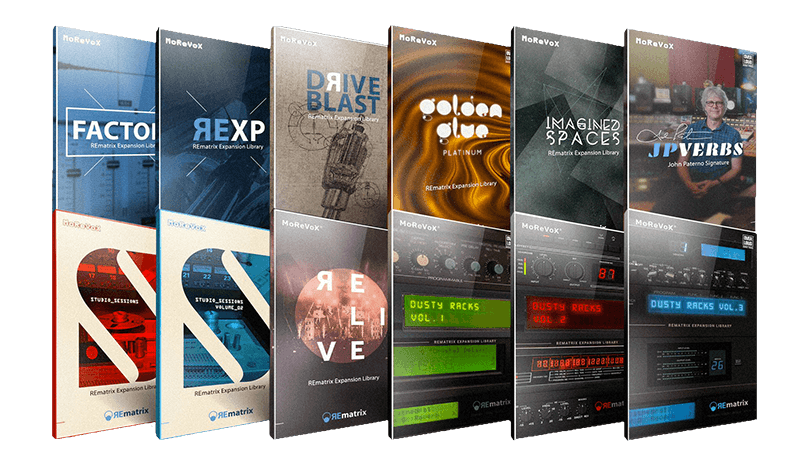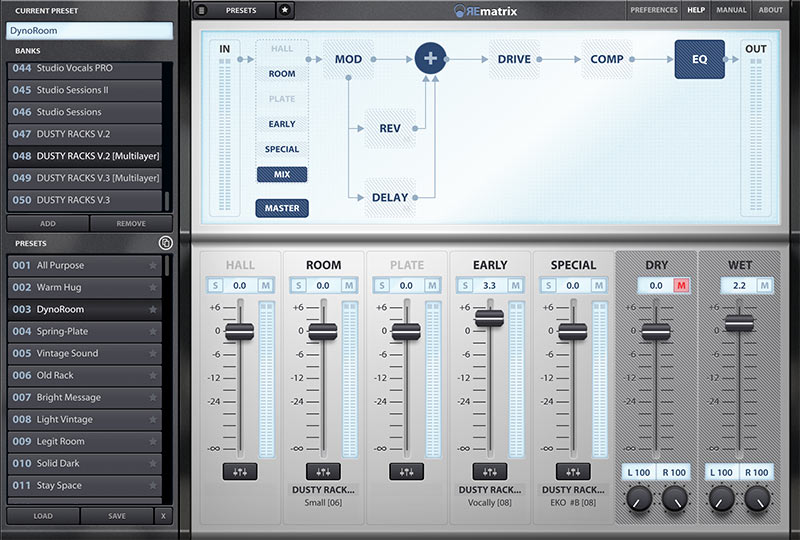 REmatrix Player included
All the REmatrix libraries include the REmatrix Player plug-in for free. REmatrix is the unique multilayer convolver which allows to load the IRs and blend them to create unique reverb flavours.
REmatrix Player offers the same features of the REmatrix Full plugin with a limited set of editing capabilities. See the differences between REmatrix Full and REmatrix Player.