Drive Blast IR Library
Drive Blast contains 101 impulse responses, created with various amounts of harmonic distortion.
Harmonic distortion is at the center of an exciting sound
Drive Blast contains 101 impulse responses, created with various amounts of harmonic distortion processed through sophisticated audio effect chains of custom outboard gear.

In Drive Blast there are some extreme uses of harmonic distortion, and all the included IRs have been heavily processed to achieve unparalleled thick sounds. Each Impulse Response is available in two versions:

T-Type (with prevalence of 3rd order harmonics – a "tape" sound)
Wide
Clean and transparent
More impact
Focused on the sides
V-Type (with prevalence of 2nd order harmonics – a "valve" sound)
Mixing V-Type and T-Type IRs together allows thousands of unique combinations of reverbs, from extremely creamy and warm to more nuanced effects; this makes Drive Blast an essential expansion for REmatrix users.
Smooth
Center focused
Rich mid-range
Solid low end
The library is created for REmatrix, the first multilayer convolution reverb.
-20% Discount for REmatrix Full owners
Get this library 20% off using the personal coupon code.
Download free additional presets for this library
CHOOSE FROM THE ENTIRE COLLECTION
REmatrix offers a wide collection of reverb libraries, created by Sabino Cannone (MoReVoX) as well as Grammy Award winning engineers like Rafa Sardina and John Paterno.
Any single library in the collection is created after an extensive capturing and editing work, and includes hundreds of recombinable IRs and presets, created during real mixing sessions.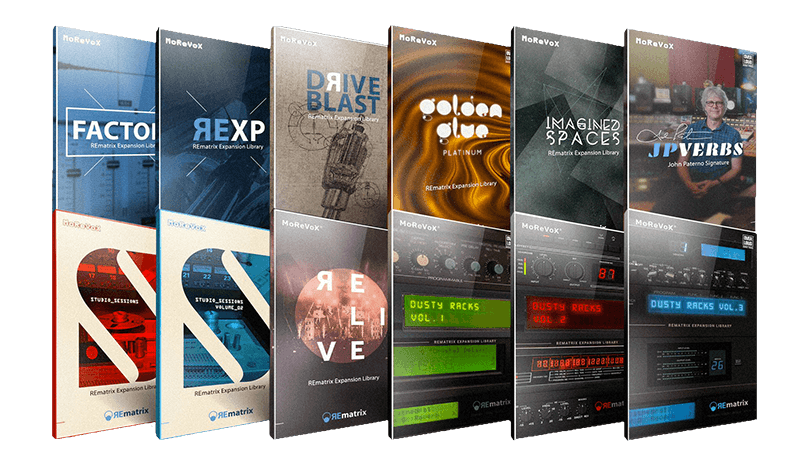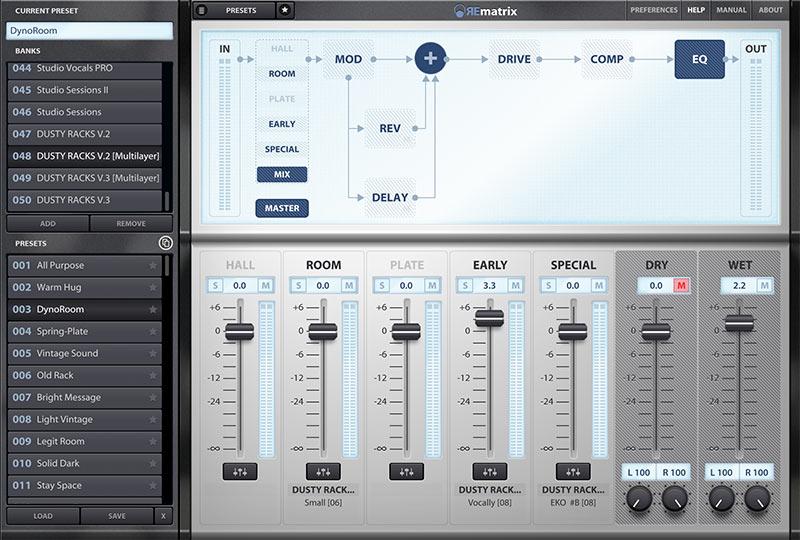 REmatrix Player included
All the REmatrix libraries include the REmatrix Player plug-in for free. REmatrix is the unique multilayer convolver which allows to load the IRs and blend them to create unique reverb flavours.
REmatrix Player offers the same features of the REmatrix Full plugin with a limited set of editing capabilities. See the differences between REmatrix Full and REmatrix Player.