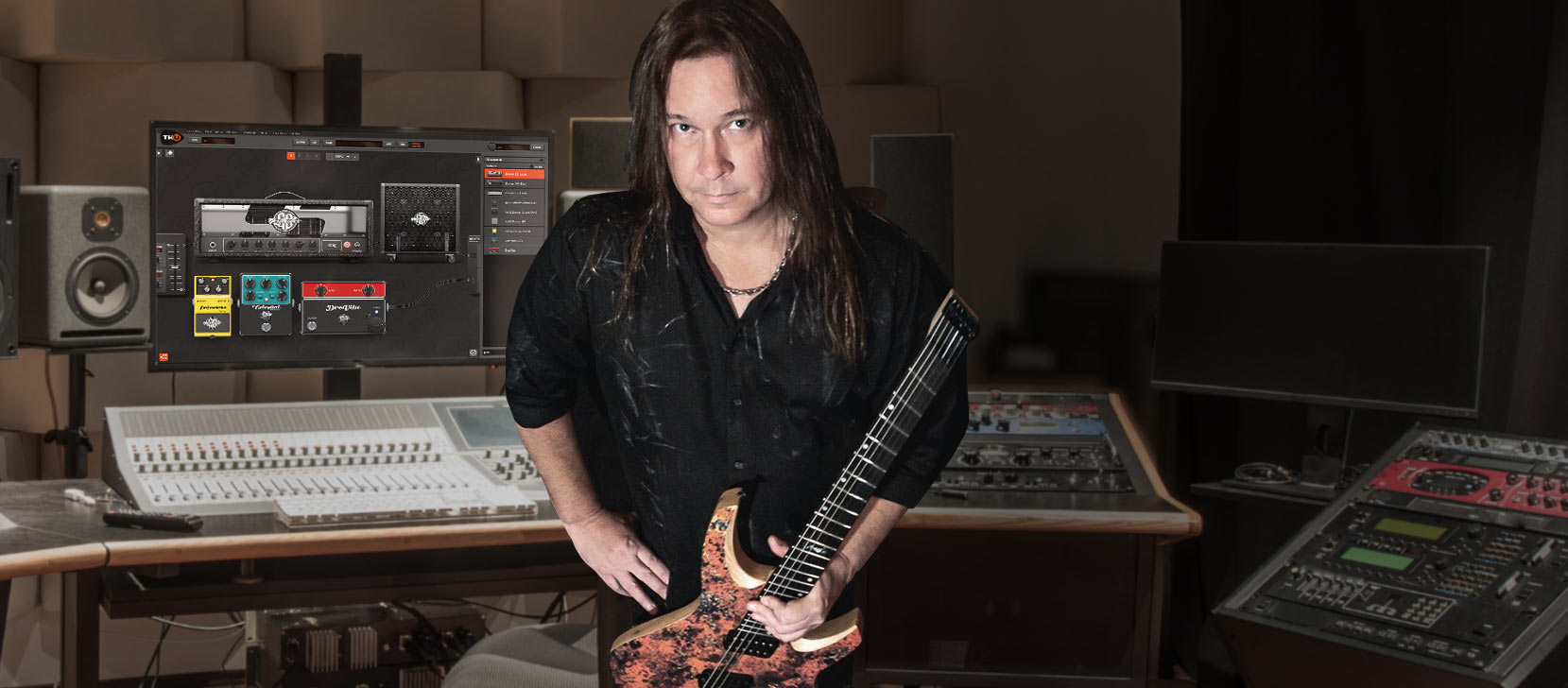 TH-U Glen Drover
The signature pack of the Metal Hero Glen Drover (Megadeth, King Diamond, Withering Scorn)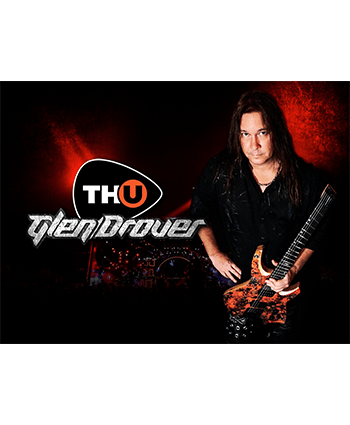 TH-U Glen Drover
TH-U Glen Drover Pack is an all-in-one Amp Sim plug-in developed with the Metal Hero Glen Drover. The pack includes all the models used to recreate the most famous Glen tones, from the songs with Megadeth through his most recent projects like the Withering Scorn. His signature models and his presets are included in the pack:
Drover FT Clean signature amp + cabinet
Drover M4 Dist signature amp + cabinet
Drover SX Lead signature amp + cabinet
DroverDrive GD-1X signature pedal
Celestial Chorus/delay signature pedal
DroVibe phase/vibrato signature pedals
20 patches recreating his tones with Megadeth and Withering Scorn
... in addition to 1 Amp, 1 Cab and 6 effects including compressor, delay and modulation pedals and racks (see the full list below) from the TH-U Premium collection.
TH-U Premium owners can get this pack at a reduced price
STANDALONE AND EXPANSION PACK
TH-U Glen Drover is both a TH-U expansion pack and a Standalone plugin, meaning that it can expand the model list of an existing TH-U installation, or it can also be purchased as self-contained pack which includes all the TH-U editing features, including the Rig Player, the Tuner and the Looper, with no need to have a pre-existing TH-U license.


NEW SIGNATURE AMPS!
DROVER FT CLEAN
Crystal clear amp, with an American style, for lush clean tones, matched with a 4x12 cabinet based on bright alnico speakers.
DROVER M4 DIST
Mid-to-high gain amp with perfectly balanced tone for palm-muting, djent and power chords. Matched with a 4x12 cabinet based on V30 speakers, for a huge and open sound.
NEW! A SOLO BEAST!
DROVER SX LEAD
Super high gain amp, with and incredible clarity and playability for metal solos. Matched with a 4x12 cabinet based on Greenback speakers for increased presence.
NEW! GLEN SIGNATURE PEDALS
DROVERDRIVE GD-1X
To enhance the OD channel of any TH-U amp, in particular Glen's M4 and SX amps
CELESTIAL CHORUS/DELAY
Glen's favourite modulation and delay into a single pedal with a '90s analog flavour
DRO-VIBE
Glen's "mod" of the classic UniVibe pedal, created for more atmospherical soloing and clean tones
8 MORE MODELS
TH-U Glen Drover contains also a complete collection of effects, amps and cabs that extend the tone capabilities of the plug-in, including:
1 Compressor, 2 Delay/Reverb effects, 1 Modulation pedals a Graphic Eq pedal, a Noise Gate, 1 additional Amp and 1 additional Cabinets.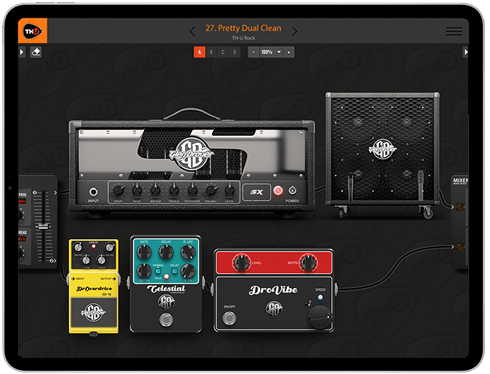 Mobile version available
TH-U Glen Drover is also available for TH-U iOS as an In-App purchase.
GET IT FOR JUST $1
Activate the Desktop license and unlock the iOS version for just $1!
3D Cabinet Simulation + Double IR LOADER
TH-U offers a matrix of 4 microphones which can be placed anywhere in the 3D space in front and even behind the cabinet, change the angle and pan them in the stereo space.
Fluid Convolution allows to move the mirophones seamlessly and use long IRs to get realistic and solid tones.
A double IR loader integrated into the cabinet module allows to load and mix IRs with the cab microphones.
The ReSPiRe 2 technology allows you to choose between the real response of the cabinet and a processed version optimized to fit into the mix
6 different room types and 18 microphone models can be selected.
MIDI total control
Setting up a MIDI floorboard is as easy as clicking an element on the TH-U interface and pressing the corresponding pedal on the MIDI floorboard. TH-U learns the MIDI connection and makes it instantly available in any preset. Gigs have never been so much fun with TH-U!
* Any use of third party trademarks, logos, mentioned brand names, products and services is only referential and Overloud hereby disclaims any Sponsorship, Affiliation or Endorsement of or by any such third party.